A 21st Century classroom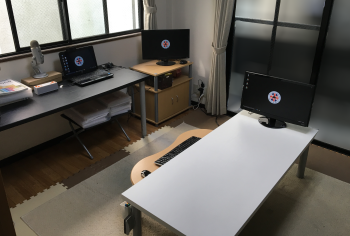 I use the latest technology to bring you interesting and interactive lessons
One to one lesson candidates receive a completely personalised experience in a lesson that creates itself as we talk.
Please come and visit my classroom in Heiwa machi!
What is a 21st century classroom?
Having studied Computer Science, I am very familiar with how to effectively use technology to help learning.
I use a combination of writing, reading, visual feeds (using on-line videos for example), as well as advanced feedback systems to help you correct and progress from your mistakes.
Of course, I use traditional textbooks to help with your learning too! (sometimes paper works just fine!)
Why do you always type on a computer during class?
I can touch-type very naturally, and so I can record what you are saying as you say it.This lets us create a record, and helps us focus and expand on areas in English that you need the most help with.
Do I get a copy of the notes you take during class?
Yes, you do.
In fact, I give out both a physical printed copy (if you want it) and an on-line copy that you can view any time you like
Do you have an example of lesson notes I can see?
Sure – there is one over here.
What if I lose my notes?
No problem. All of your lesson notes are automatically saved to your own private online folder.
You can access them anytime from the Internet.
Can I listen to the class audio at home?
Yes, you can.I can include audio from the lessons in the lesson notes taken during class so you can listen to it as many times as you like (good for pronunciation practice!)
Access
My lesson classroom address is: 852-8116 Nagasaki city, Heiwa machi 11-3, Rai rai biru 202You can also find me by using this map: